Biography


I, Marion Kinlock, was born and raised in Jamaica, West Indies. I started singing when i was about 8-years old. My Mom bought me a harmonica. The

first song I played was "Silent Night." I grew up in the church and attended Sunday school regularly. Whenever I would go to church, I would ask the church leaders to allow me to play the instruments. There was a banjo, guitar, bass, drums and keyboard. I grew up around music and musicians my entire life. Therefore, I was constantly motivated to make a joyful noise to the Lord with music. my entire life. When I was about 15 years old, myself and a few more young people in my church decided to record a few songs. I remember that it was a group of six, including myself. I love the Lord and just wanted to sing praises to Lord and bless others with spiritual songs. I was married at an early age and was blessed with five children. During the process of caring for my children, I did make many transitions. I relocated to the States so my singing career was halted. Years later, after my children were grown up, I began singing again because I wanted to do this from the depths of my heart. I remember I was at work at Fargo Manufacturing as an inspector and the Lord gave me this song. The title is "Thank God for Church of God." It was very well loved by everyone who heard it. From that moment on, I began to write and sing at different churches. I went to many theaters in Manhattan to minister and perform.
I am now a songwriter, producer and recording artist, and singer. I play the guitar, saxophone, harmonica and the keyboard. All this is done to the glory and honor of my Heavenly Father so that I might be a blessing and inspiration to someone - most of all to lift up the name of Jesus. I thank God that because of him, I am a blessing and not a curse. Praise Be to God. All the songs you will listen to on my album the Lord has directed me and I am sure they are blessing many people around the world. One lady in England told me that her husband was feeling discouraged so they started playing the album. They began to rejoice in minutes. I get much feedback praise God. It is all to the Glory of God. Hallelujah.
-M.M. Kinlock
Powered by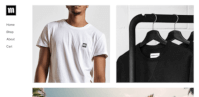 Create your own unique website with customizable templates.